A Gold, Silver and Bronze at the 2016 World Championship Cheese Contest for Idyll Farms!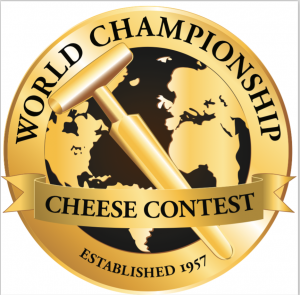 We have had a busy couple of weeks! Our kidding season began March 10, with Detroit giving birth to a doeling, prompting us to offer a Idyll Farms Detroit t-shirt to the winning name for her kid (it needs to start with an "E"). Jury is still out on the winner. As of publish date, 48 kids have been born out of a possible 300 by the end of next month.
Jury has voted (in fact, an international panel of experts) on our cheese at the 2016 World Championship Cheese Contest! The World Championship Cheese Contest, initiated in 1957, is the largest technical cheese, butter, and yogurt competition in the world. A record-setting 2,959 cheese entries from 23 countries and 31 states were evaluated during the three- day competition in Madison, Wisconsin. Idyll Farms won "Best in Class" (Gold Medal) as well as a Silver Medal for our Idyll Gris in the Surface (Mold) Ripened Goat's Milk Cheeses and a Bronze Medal for our newest product, Idyll Pastures with Garlic and Herbs, in the Flavored Soft Goat's Milk Cheeses. Congrats to Team Idyll, headed up on the farm side by Leonard Pollara, for keeping our goats and pastures happy and healthy, giving us our beautiful milk for our cheese, and on the creamery side by our proven award-winning cheesemaker, Melissa Hiles, who has been the backbone of Idyll Farms operations since the farm's inception.